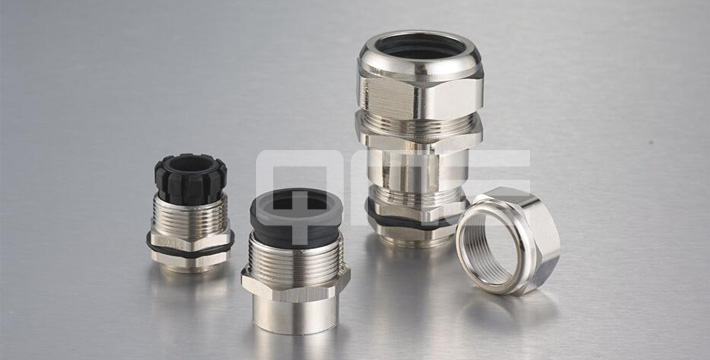 PRODUCT NAME
Metal Flexible Conduit Gland

hread: Metric, PG, G (PF), and NPT thread
Materials: Brass with nickel plated for A, C, F, H parts, UL approved nylon PA66 (flammability UL94V-2) for
E part, EPDM rubber for B, D, G parts.
Protection Degree: IP68
Working Temperature: -40℃ to 100℃ in static state, or instantaneous heat resistance up to 120℃
Features: The claws and seals of excellent design, sealing nut have a "click" sound and re-open,
can hold cable firmly and have a wider cable range. Resistant to salt water, weak acid,
Alcohol, oil, grease and common solvency.
Note: Special size and type, please contact us 
Thread
Item. No.
Cable
Range
(mm)
Accomodated
Pipes
Thread O.D.
D1
(mm)
Thread
Length L1
(mm)
Spanner
Size
Std. Pkg
(pcs)
M12×1.5
M12-AD10.0
3-6
AD10.0
12
6
16
50
M14×1.5
M14-AD10.0
3-6
AD10.0
14
6
16
50
M16×1.5
M16-AD13.0
4-8
AD13.0
16
7
16
50
M18×1.5
M18-AD15.8
6-10
AD15.8
18
8
20
50
M20×1.5
M20-AD15.8
8-12
AD15.8
20
8
22
50
M20×1.5
M20-AD18.5
8-12
AD18.5
20
8
22
50
M20×1.5
M20-AD21.2
8-12
AD21.2
20
8
22
50
M22×1.5
M22-AD21.2
10-14
AD21.2
22
9
24
50
M24×1.5
M24-AD21.2
10-14
AD21.2
24
10
27
50
M25×1.5
M25-AD21.2
10-14
AD21.2
25
10
28
50
M25×1.5
M25-AD28.5
10-14
AD28.5
25
10
28
50
M27×1.5
M27-AD28.5
13-18
AD28.5
27
11
30
50
M30×1.5
M30-AD34.5
13-18
AD34.5
30
11
32
20
M32×1.5
M32-AD34.5
15-22
AD34.5
32
11
36
20
M33×1.5
M33-AD34.5
15-22
AD34.5
33
11
36
20
M36×1.5
M36-AD34.5
18-25
AD34.5
36
11
42
20
M40×1.5
M40-AD42.5
18-25
AD42.5
40
12
45
10
M50×1.5
M50-AD54.5
26-32
AD54.5
50
13
56
10
M63×1.5
M63-AD54.5
37-44
AD54.5
63
14
70
10
PG7
PG7-AD10.0
3-6
AD10.0
12.5
6
16
50
PG9
PG9-AD13.0
4-8
AD13.0
15.2
7
16
50
PG11
PG11-AD15.8
6-10
AD15.8
18.6
8
20
50
PG13.5
PG13.5-AD15.8
8-12
AD15.8
20.4
8
22
50
PG13.5
PG13.5-AD18.5
8-12
AD18.5
20.4
8
22
50
PG13.5
PG13.5-AD21.2
8-12
AD21.2
20.4
8
22
50
PG16
PG16-AD21.2
10-14
AD21.2
22.5
9
24
50
PG21
PG21-AD28.5
13-18
AD28.5
28.3
11
30
50
PG29
PG29-AD34.5
18-25
AD34.5
37
11
42
20
PG36
PG36-AD42.5
26-32
AD42.5
47
13
52
10
PG48
PG48-AD54.5
37-44
AD54.5
59.3
14
64
10
G(PF)1/4
G(PF)1/4-AD10.0
3-6
AD10.0
13.2
6
16
50
G(PF)3/8
G(PF)3/8-AD13.0
4-8
AD13.0
16.5
7
18
50
G(PF)1/2
G(PF)1/2-AD15.8
8-12
AD15.8
21.3
8
22
50
G(PF)1/2
G(PF)1/2-AD18.5
8-12
AD18.5
21.3
8
22
50
G(PF)1/2
G(PF)1/2-AD21.2
8-12
AD21.2
21.3
8
22
50
G(PF)3/4
G(PF)3/4-AD28.5
13-18
AD28.5
26.6
11
30
50
G(PF)1
G(PF)1-AD28.5
15-22
AD28.5
33.4
11
36
20
G(PF)1 1/4
G(PF)1 1/4-AD34.5
22-28
AD34.5
42.1
12
48
10
G(PF)1 1/2
G(PF)1 1/2-AD42.5
26-32
AD42.5
47.8
13
52
10
G(PF)2
G(PF)2-AD54.5
37-44
AD54.5
59.6
14
64
10
NPT3/8
NPT3/8-AD13.0
4-8
AD13.0
16.5
7
18
50
NPT1/2
NPT1/2-AD15.8
8-12
AD15.8
21.3
8
22
50
NPT1/2
NPT1/2-AD18.5
8-12
AD18.58
21.3
8
22
50
NPT1/2
NPT1/2-AD21.2
8-12
AD21.2
21.3
8
22
50
NPT3/4
NPT3/4-AD21.2
13-18
AD21.2
26.6
11
30
50
NPT3/4
NPT3/4-AD28.5
13-18
AD28.5
26.6
11
30
50
NPT1
NPT1-AD34.5
15-22
AD34.5
33.4
11
36
20