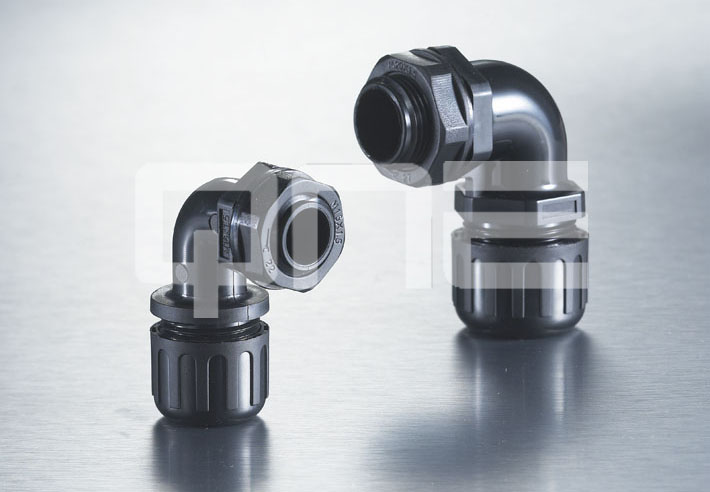 PRODUCT NAME
90°Elbow Powerful Watertight Corrugated Tubing Fittings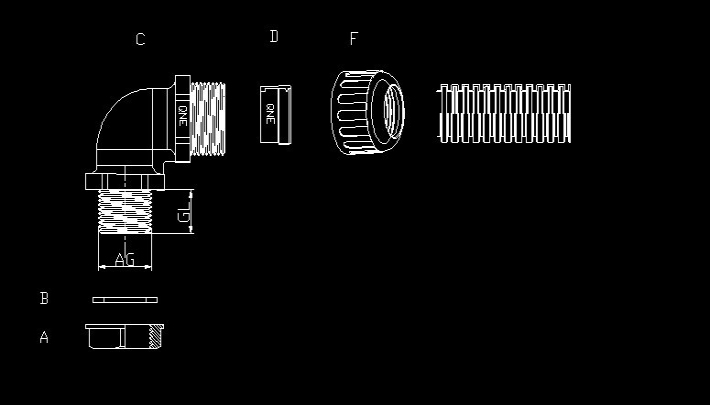 90°Elbow Powerful Watertight Corrugated Tubing Fittings
Thread: Metric, PG, G(PF), and NPT thread
Materials: UL approved Nylon PA66PA 66(Flammability UL 94V-2)for A. C. F parts, Weather-resistant EPDM rubber for B. D parts. (Accept to make super rubber: resist high temperature rubber, resist strong acid/alkali,etc).
Working temperature: -40℃ to 100℃
Features: The elbow tubing fitting is a best 90°connector for the housing panel and conduit,that is commonly used when the conduit system is run in parallel to the housing wall and protect conduit from sharp bending. In addition, The product build the best tightening power by a very high and active compression force to resist the ingress of high pressure water jet from any angle which can provide 100% dynamic waterproof and airtight performance over the widest range of corrugated tubings.
The product can widely applied to resist water impact or immersion as a tough cable protection system for any machines, devices and equipments with the very specific demands. 
Accommodated Pipes
Item. No.
Thread
AG Outer
diameter
(mm)
Thread
Length GL
(mm)
Body Min. L.D.
(mm)
Std.
Pkg(pcs)
AD10.0
EWTF-M12-10.0-ST
M12 x 1.5
12.0
10.0
8
50
AD13.0
EWTF-M16-13.0-ST
M16 x 1.5
16.0
10.0
10.7
50
AD15.8
EWTF-M16-15.8-ST
M16 x 1.5
16.0
10.0
11.1
50
AD15.8
EWTF-M16-15.8
M16 x 1.5
16.0
15.0
11.0
50
AD15.8
EWTF-M20-15.8-ST
M20 x 1.5
20.0
10.0
14.7
50
AD15.8
EWTF-M20-15.8
M20 x 1.5
20.0
15.0
14.7
50
AD18.5
EWTF-M16-18.5-ST
M16 x 1.5
16.0
10.0
11.0
50
AD18.5
EWTF-M16-18.5
M16 x 1.5
16.0
15.0
11.0
50
AD18.5
EWTF-M20-18.5-ST
M20 x 1.5
20.0
10.0
14.7
50
AD18.5
EWTF-M20-18.5
M20 x 1.5
20.0
15.0
14.7
50
AD21.2
EWTF-M20-21.2-ST
M20 x 1.5
20.0
10.0
14.8
50
AD21.2
EWTF-M20-21.2
M20 x 1.5
20.0
15.0
14.8
50
AD25.0
EWTF-M25-25.0-ST
M25 x 1.5
25.0
10.0
19.2
50
AD25.0
EWTF-M25-25.0
M25 x 1.5
25.0
15.0
19.2
50
AD28.5
EWTF-M25-28.5-ST
M25 x 1.5
25.0
10.0
19.2
50
AD28.5
EWTF-M25-28.5
M25 x 1.5
25.0
15.0
19.2
50
AD34.5
EWTF-M32-34.5
M32 x 1.5
32.0
15.0
26.2
20
AD42.5
EWTF-M40-42.5
M40 x 1.5
40.0
20.0
34.0
10
AD48
EWTF-M50-48
M50 x 1.5
50.0
20.0
41.0
1