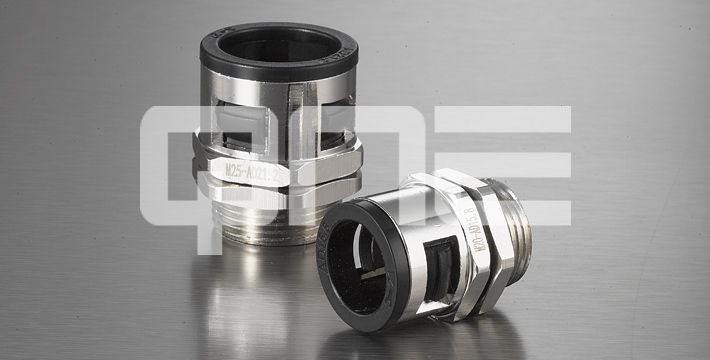 PRODUCT NAME
Brass Quick Connector for Flexible Pipes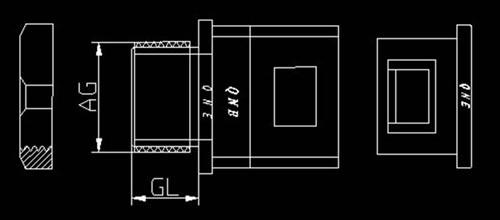 Thread: Metric, PG, G(PF), and NPT thread
Brass with nickel plated for A. C parts, UL approved Nylon PA66 (Flammability UL 94V-2) for F part.(Can make as customer's requirement)
Working temperature: -40℃ to 100℃
Features: The claws of excellent design, to provide a fast & safe connection with the tubing and to get an excellent result of the pullout strength to be the best balanced performers for cable protection system.
Accommodated
Pipes
Item. No.
Thread
AG Outer
diameter
(mm)
Thread
Length GL
(mm)
Std.
Pkg(pcs)
AD10.0
QBCTF-M10 -10.0
M10 x 1.5
10
10
20
AD10.0
QBCTF-M12 -10.0
M12 x 1.5
12
10
20
AD13.0
QBCTF-M12 -13.0
M12 x 1.5
12
10
20
AD13.0
QBCTF-M16 -13.0
M16 x 1.5
16
10
20
AD13.0
QBCTF-M18 -13.0
M18 x 1.5
18
10
20
AD13.0
QBCTF-M20 -13.0
M20 x 1.5
20
10
20
AD15.8
QBCTF-M16 -15.8
M16 x 1.5
16
12.5
20
AD15.8
QBCTF-M18 -15.8
M18 x 1.5
18
12.5
20
AD15.8
QBCTF-M20 -15.8
M20 x 1.5
20
12.5
20
AD18.5
QBCTF-M18-18.5
M18 x 1.5
18
12.5
20
AD18.5
QBCTF-M20 -18.5
M20 x 1.5
20
12.5
20
AD18.5
QBCTF-M22 -18.5
M22 x 1.5
22
12.5
20
AD21.2
QBCTF-M20 -21.2
M20 x 1.5
20
13
10
AD21.2
QBCTF-M22 -21.2
M22 x 1.5
22
13
10
AD21.2
QBCTF-M24 -21.2
M24 x 1.5
24
13
10
AD21.2
QBCTF-M25 -21.2
M25 x 1.5
25
13
10
AD25.0
QBCTF-M25 -25.0
M25 x 1.5
25
13
10
AD28.5
QBCTF-M25 -28.5
M25 x 1.5
25
13
10
AD28.5
QBCTF-M27 -28.5
M27 x 1.5
27
13
10
AD28.5
QBCTF-M30 -28.5
M30 x 1.5
30
13
10
AD28.5
QBCTF-M30 -28.5-2
M30 x 2
30
13
10
AD28.5
QBCTF-M32 -28.5
M32 x 1.5
32
13
10
AD34.5
QBCTF-M32 -34.5
M32 x 1.5
32
14
5
AD34.5
QBCTF-M36 -34.5
M36 x 1.5
36
14
5
AD34.5
QBCTF-M36 -34.5-2
M36 x 2
36
14
5
AD34.5
QBCTF-M40 -34.5
M40 x 1.5
40
14
5
AD42.5
QBCTF-M40 -42.5
M40 x 1.5
40
15
5
AD42.5
QBCTF-M42 -42.5
M42 x 1.5
42
15
5
AD42.5
QBCTF-M48 -42.5
M48 x 1.5
48
15
5
AD42.5
QBCTF-M48 -42.5-2
M48 x 2
48
15
5
AD42.5
QBCTF-M50 -42.5
M50 x 1.5
50
15
5
AD54.5
QBCTF-M50 -54.5
M50 x 1.5
50
16
1
AD54.5
QBCTF-M60 -54.5
M60 x 1.5
60
16
1
AD54.5
QBCTF-M63 -54.5
M63 x 1.5
60
16
1
AD10.0
QBCTF-PG7 -10.0
PG7
12.4
8.5
20
AD13.0
QBCTF-PG9 -13.0
PG9
15.2
10
20
AD15.8
QBCTF-PG11 -15.8
PG11
18.4
12.5
20
AD18.5
QBCTF-PG13.5 -18.5
PG13.5
20.4
12.5
20
AD21.2
QBCTF-PG16 -21.2
PG16
22.5
13
10
AD25
QBCTF-PG21 -25
PG21
28.3
13
10
AD28.5
QBCTF-PG21 -28.5
PG21
28.3
13
10
AD34.5
QBCTF-PG29 -34.5
PG29
37
14
5
AD42.5
QBCTF-PG36 -42.5
PG36
47
15
5
AD54
QBCTF-PG42 -54.5
PG42
54
16
1
AD54
QBCTF-PG48 -54.5
PG48
59.3
16
1
AD10.0
QBCTF-G1/4 -10.0
G(PF) 1/4
13.1
8.5
20
AD13.0
QBCTF-G3/8 -13.0
G(PF) 3/8
16.6
10
20
AD15.8
QBCTF-G3/8 -15.8
G(PF) 3/8
16.6
12.5
20
AD15.8
QBCTF-G1/2 -15.8
G(PF) 1/2
20.9
12.5
20
AD18.5
QBCTF-G1/2 -18.5
G(PF) 1/2
20.9
12.5
20
AD21.2
QBCTF-G1/2 -21.2
G(PF) 1/2
20.9
13
10
AD21.2
QBCTF-G3/4 -21.2
G(PF) 3/4
26.4
13
10
AD25.0
QBCTF-G3/4 -25
G(PF) 3/4
26.4
13
10
AD28.5
QBCTF-G3/4 -28.5
G(PF) 3/4
26.4
13
10
AD34.5
QBCTF-G1 -34.5
G(PF) 1
33.2
14
5
AD42.5
QBCTF-G1 1/4 -42.5
G(PF) 1 1/4
41.9
15
5
AD54.5
QBCTF-G1 1/2 -54.5
G(PF) 1 1/2
48
16
1
AD54.5
QBCTF-G2 -54.5
G(PF) 2
60
16
1
AD21.2
QBCTF-PF1/2-21.2
G(PF)1/2
20.9
15
10
AD21.2
QBCTF-PF3/4-21.2
G(PF)3/4
26.4
15
10
AD28.5
QBCTF-PF3/4-28.5
G(PF)3/4
26.4
15
10
AD34.5
QBCTF-PF1-34.5
G(PF)1
33.2
15
5
AD42.5
QBCTF-PF1 1/4-42.5
G(PF)1 1/4
41.9
15
5
AD54.5
QBCTF-PF1 1/2-54.5
G(PF)1 1/2
48
15
1
AD54.5
QBCTF-PF2-54.5
G(PF)2
60
15
1
AD60
QBCTF-PF1 1/2-60
G(PF)1 1/2
48
15
1
AD60
QBCTF-PF2-60
G(PF)2
30
15
1