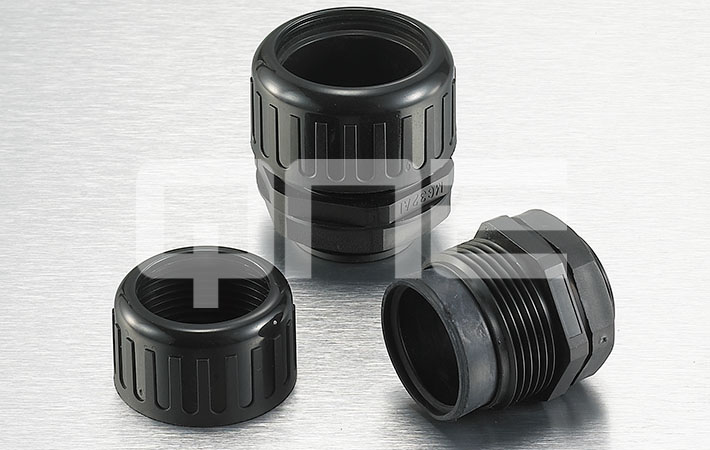 PRODUCT NAME
Powerful Watertight Corrugated Tubing Fittings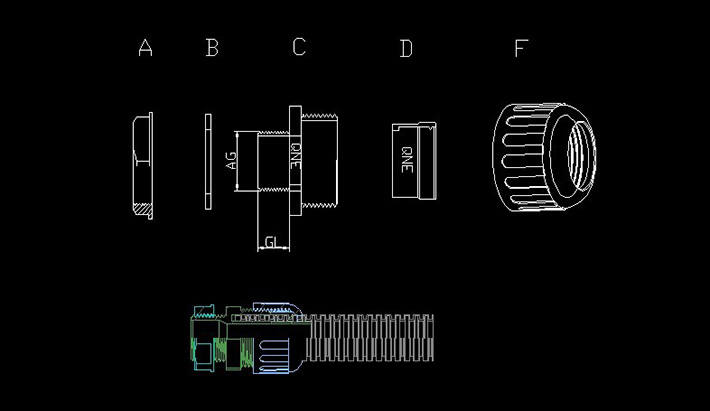 Thread: Metric, PG, G(PF), and NPT thread
Materials: UL approved Nylon PA66PA 66(Flammability UL 94V-2)for A. C. F parts, Weather-resistant EPDM rubber for B. D parts. (Accept to make super rubber: resist high temperature rubber, resist strong acid/alkali,etc).
Working temperature: -40℃ to 100℃
Features: The Powerful Watertight Fittings build the best tightening power by a very high and active compression force to resist the ingress of high pressure water jet from any angle which can provide 100% dynamic waterproof and airtight performance over the widest range of corrugated tubings.
The product can widely applied to resist water impact or immersion as a tough cable protection system for any machines, devices and equipments with the very specific demands. 
Accommodated
Pipes
Item. No.
Thread
AG Outer
diameter
(mm)
Thread
Length GL
(mm)
Std.
Pkg(pcs)
AD10.0
WTF-M12-10.0
M12 x 1.5
12
9
50
AD10.0
WTF-M16S-10.0-ST
M16 x 1.5
16
10
50
AD13.0
WTF-M16-13.0-ST
M16 x 1.5
16
10
50
AD13.0
WTF-M16-13.0
M16 x 1.5
16
15
50
AD13.0
WTF-M20M-13.0-ST
M20 x 1.5
20
10
50
AD13.0
WTF-M20M-13.0
M20 x 1.5
20
15
50
AD15.8
WTF-M16-15.8-ST
M16 x 1.5
16
10
50
AD15.8
WTF-M16-15.8
M16 x 1.5
16
15
50
AD15.8
WTF-M20-15.8-ST
M20 x 1.5
20
10
50
AD15.8
WTF-M20-15.8
M20 x 1.5
20
15
50
AD15.8
WTF-M22-15.8-ST
M22 x 1.5
22
10
50
AD15.8
WTF-M22-15.8
M22 x 1.5
22
15
50
AD15.8
WTF-M25-15.8-ST
M25 x 1.5
25
12
50
AD15.8
WTF-M25-15.8
M25 x 1.5
25
15
50
AD18.5
WTF-M16-18.5-ST
M16 x 1.5
16
10
50
AD18.5
WTF-M16-18.5
M16 x 1.5
16
15
50
AD18.5
WTF-M20-18.5-ST
M20 x 1.5
20
10
50
AD18.5
WTF-M20-18.5
M20 x 1.5
20
15
50
AD18.5
WTF-M22-18.5-ST
M22 x 1.5
22
10
50
AD18.5
WTF-M22-18.5
M22 x 1.5
22
15
50
AD18.5
WTF-M25-18.5-ST
M25 x 1.5
25
12
50
AD21.2
WTF-M20-21.2-ST
M20 x 1.5
20
10
50
AD21.2
WTF-M20-21.2
M20 x 1.5
20
15
50
AD21.2
WTF-M25-21.2-ST
M25 x 1.5
25
10
50
AD21.2
WTF-M25-21.2
M25 x 1.5
25
15
50
AD25.0
WTF-M25-25.0-ST
M25 x 1.5
25
10
50
AD25.0
WTF-M25-25.0
M25 x 1.5
25
15
50
AD26.2
WTF-M25-26.2-ST
M25 x 1.5
25
10
50
AD26.2
WTF-M25-26.2
M25 x 1.5
25
15
50
AD28.5
WTF-M25-28.5-ST
M25 x 1.5
25
10
50
AD28.5
WTF-M25-28.5
M25 x 1.5
25
15
50
AD34.5
WTF-M32-34.5-ST
M32 x 1.5
32
10
20
AD34.5
WTF-M32-34.5
M32 x 1.5
32
15
20
AD42.5
WTF-M40-42.5
M40 x 1.5
40
15
10
AD42.5
WTF-M50-42.5
M50 x 1.5
50
15
10
AD48
WTF-M50-48
M50 x 1.5
50
15
10
AD54.5
WTF-M50-54.5
M50 x 1.5
50
22
10
AD54.5
WTF-M63-54.5
M63 x 1.5
63
25
10
AD60
WTF-M50-60
M50 x 1.5
50
22
10
AD60
WTF-M50-60
M63 x 1.5
63
25
10
AD10.0
WTF-PG7-10.0
PG7
12.5
9
50
AD10.0
WTF-PG9-10.0
PG9
15.2
9
50
AD13.0
WTF-PG11-13.0
PG11
18.6
10
50
AD15.8
WTF-PG13.5-15.8
PG13.5
20.4
10
50
AD15.8
WTF-PG16-15.8
PG13.5
22.5
10.8
50
AD18.5
WTF-PG13.5-18.5
PG13.5
20.4
10
50
AD18.5
WTF-PG16-18.5
PG13.5
22.5
10.8
50
AD21.2
WTF-PG16-21.2
PG16
22.5
13
50
AD21.2
WTF-PG21-21.2
PG21
28.3
13
50
AD28.5
WTF-PG21-28.5
PG21
28.3
13
50
AD34.5
WTF-PG29-34.5
PG29
37
13
20
AD42.5
WTF-PG36-42.5
PG36
47
13
10
AD54.5
WTF-PG48-54.5
PG48
59.3
16
10
AD60
WTF-PG48-60
PG48
59.3
16
10
AD10.0
WTF-PF1/4-10.0
G(PF)1/4
13.1
9
50
AD13.0
WTF-PF3/8-13.0
G(PF)3/8
16.6
15
50
AD15.8
WTF-PF1/2-15.8
G(PF)1/2
20.9
15
50
AD18.5
WTF-PF1/2-18.5
G(PF)1/2
20.9
15
50
AD21.2
WTF-PF1/2-21.2
G(PF)1/2
20.9
15
50
AD21.2
WTF-PF3/4-21.2
G(PF)3/4
26.4
15
50
AD28.5
WTF-PF3/4-28.5
G(PF)3/4
26.4
15
50
AD34.5
WTF-PF1-34.5
G(PF)1
33.2
15
20
AD34.5
WTF-PF1 1/4-42.5
G(PF)1 1/4
41.9
15
10
AD54.5
WTF-PF1 1/2-54.5
G(PF)1 1/2
48
15
10
AD54.5
WTF-PF2-54.5
G(PF)2
60
15
10
AD60
WTF-PF1 1/2-60
G(PF)1 1/2
48
15
10
AD60
WTF-PF2-60
G(PF)2
60
15
10