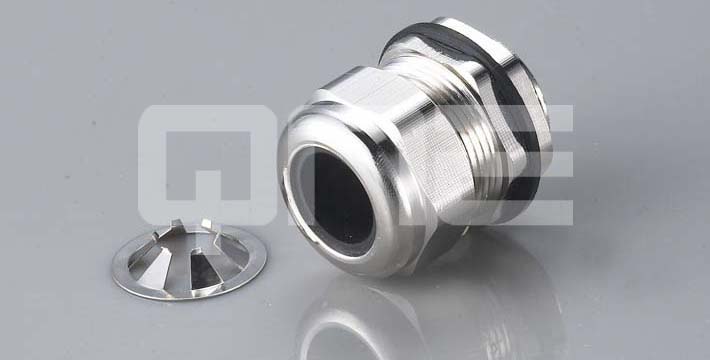 PRODUCT NAME
EMC Metal BCG Cable Glands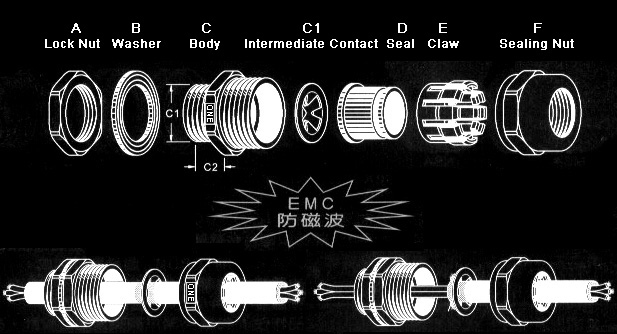 Thread: Metric, PG, G(PF), and NPT thread
Materials: Brass with nickel plated for A. C. C1. F parts, UL approved Nylon PA66 (Flammability UL 94V-2) for E part, EPDM rubber for B. D parts.
Working temperature: -40℃ to 100℃
Features: The claws and seals of excellent design, can hold cable firmly and have a wider cable range. Resistant to salt water, weak acid, alcohol, oil, grease and common solvency.
Application: To transfer the effect of EMI.

Seal Holes
Thread
Item. No.
Cable
Range Ф
Thread O.D.
C1
Panel
Mounting
Hole
Thread
Length C2(
Spanner
Size
A & F
Std.Pkg.
pcs
M12×1.5
EMC-MBA12 -05
5.3~3
12
12~12.3
8
17/17
10
M12×1.5
EMC-MBA12  -08
8~4.5
12
12~12.3
8
17/17
10
M16×1.5
EMC-MBA16  -06
7~4
16
16~16.3
9
22/22
10
M16×1.5
EMC-MBA16  -10
10~6
16
16~16.3
9
22/22
10
M20×1.5
EMC-MBA20M -08
8.8~5
20
20~20.3
9
24/24
10
M20×1.5
EMC-MBA20M -11
12~7
20
20~20.3
59.5
24/24
10
M20×1.5
EMC-MBA20  -10
11~6
20
20~20.3
9.5
26/26
10
M20×1.5
EMC-MBA20  -13
14~9
20
20~20.3
9.5
26/26
10
M25×1.5
EMC-MBA25  -16
16~10
25
25~25.4
12
32/32
10
M25×1.5
EMC-MBA25  -18
18~13
25
25~25.4
12
32/32
10
M32×1.5
EMC-MBA32  -22
22~15
32
32~32.4
12.5
41/41
10
M32×1.5
EMC-MBA32  -25
25~18
32
32~32.4
12.5
41/41
10
M40×1.5
EMC-MBA40  -25
25~20
40
40~40.4
15
50/50
5
M40×1.5
EMC-MBA40  -30
30~24
40
40~40.4
15
50/50
5
M50×1.5
EMC-MBA50  -32
32~26
50
50~50.4
15
60/60
2
M50×1.5
EMC-MBA50  -39
40~30
50
50~50.4
15
60/60
2
M63×1.5
EMC-MBA63  -46
46~38
63
63~63.4
15
73/73
2
M63×1.5
EMC-MBA63  -49
50~40
63
63~63.4
15
73/73
2
G1/4
EMC-FBA13  -05
5.3~3
13.1
13.1~13.4
8
17/17
10
G1/4
EMC-FBA13  -08
8~4.5
13.1
13.1~13.4
8
17/17
10
G3/8
EMC-FBA17  -06
7~4
16.6
16.6~16.9
9
22/22
10
G3/8
EMC-FBA17  -10
10~6
16.6
16.6~16.9
9
22/22
10
G1/2
EMC-FBA21  -10
11~6
20.9
20.9~21.2
9.5
26/26
10
G1/2
EMC-FBA21  -13
14~9
20.9
20.9~21.2
9.5
26/26
10
G3/4
EMC-FBA26  -16
16~10
26.4
26.4~26.8
12
32/32
10
G3/4
EMC-FBA26  -18
18~13
26.4
26.4~26.8
12
32/32
10
G1
EMC-FBA33  -22
22~15
33.2
33.2~33.6
12.5
41/41
10
G1
EMC-FBA33  -25
25~18
33.2
33.2~33.6
12.5
41/41
10
G1 1/4
EMC-FBA42  -25
25~20
41.9
41.9~42.3
15
50/50
5
G1 1/4
EMC-FBA42  -30
30~24
41.9
41.9~42.3
15
50/50
5
G1 1/2
EMC-FBA48  -32
32~26
48
48~48.4
15
60/60
2
G1 1/2
EMC-FBA48  -39
40~30
48
48~48.4
15
60/60
2
G2
EMC-FBA60  -46
46~38
60
60~60.4
15
73/73
2
G2
EMC-FBA60  -49
50~40
60
60~60.4
15
73/73
2
PG 7
EMC-PBA7   -05
5.3~3
12.5
12.5~12.8
8
17/17
10
PG 7
EMC-PBA7   -08
8~4.5
12.5
12.5~12.8
8
17/17
10
PG 9
EMC-PBA9   -05
5.3~3
15.2
15.2~15.5
8
18/17
10
PG 9
EMC-PBA9   -08
8~4.5
15.2
15.2~15.5
8
18/17
10
PG 11
EMC-PBA11  -06
7~4
18.6
18.6~18.9
9
22/22
10
PG 11
EMC-PBA11  -10
10~6
18.6
18.6~18.9
9
22/22
10
PG 13.5
EMC-PBA13.5-08
8.8~5
20.4
20.4~20.7
9.5
24/24
10
PG 13.5
EMC-PBA13.5-12.5
12~7
20.4
20.4~20.7
9.5
24/24
10
PG 16
EMC-PBA16  -10
11~6
22.5
22.5~22.8
9.5
26/26
10
PG 16
EMC-PBA16  -13
14~9
22.5
22.5~22.8
9.5
26/26
10
PG 21
EMC-PBA21  -16
16~10
28.3
28.3~28.7
12
32/32
10
PG 21
EMC-PBA21  -18
18~13
28.3
28.3~28.7
12
32/32
10
PG 29
EMC-PBA29  -22
22~15
37
37~37.4
12.5
41/41
10
PG 29
EMC-PBA29  -25
25~18
37
37~37.4
12.5
41/41
10
PG 36
EMC-PBA36  -25
25~20
47
47~47.4
15
50/50
5
PG 36
EMC-PBA36  -30
30~24
47
47~47.4
15
50/50
5
NPT 3/8
EMC-NBA17  -06
7~4
17.1
-
13
22
10
NPT 3/8
EMC-NBA17  -10
10~6
17.1
-
13
22
10
NPT 1/2
EMC-NBA21  -10
11~6
21.3
-
13
26
10
NPT 1/2
EMC-NBA21  -13
14~9
21.3
-
13
26
10
NPT 3/4
EMC-NBA26  -16
16~10
26.6
-
14
32
10
NPT 3/4
EMC-NBA26  -18
18~13
26.6
-
14
32
10
NPT 1
EMC-NBA33  -22
22~15
33.5
-
15
41
10
NPT 1
EMC-NBA33  -25
25~18
33.5
-
15
41
10
NPT 1 1/4
EMC-NBA42  -25
25~20
42.2
-
15
50
5
NPT 1 1/4
EMC-NBA42  -30
30~24
42.2
-
15
50
5