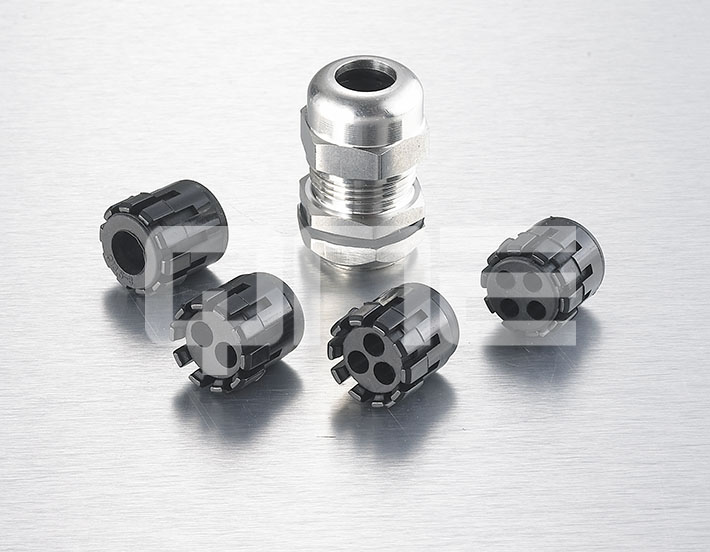 PRODUCT NAME
Stainless steel cable glands

Thread: Metric, PG, G(PF), and NPT thread

Materials: Stainless steel for A. C. F parts, UL approved Nylon PA66 (Flammability UL 94V-2) for E part, EPDM rubber for B. D parts. (Accept to make super rubber: resist high temperature rubber, resist strong acid/alkali,etc).
Working temperature: -40℃ to 100℃
Features: The claws and seals of excellent design, can hold cable firmly and have a wider cable range. Resistant to salt water, weak acid, alcohol, oil, grease and common solvency.
304 stainless steel is the most widely used as a chromium - nickel stainless steel. It has good corrosion resistance, heat resistance, low temperature strength and mechanical properties; Stamping, bending and other thermal processing, and no heat treatment hardening (non-magnetic, temperature -196 ℃ ~ 800 ℃), which is widely used in every industry. Corrosion in the atmosphere, industrial atmosphere or if it is heavily contaminated areas, the need for timely clean to avoid corrosion. 304 stainless steel is widely used to produce good overall performance requirements (corrosion resistance and formability) of equipment and parts, whose general temperature limit is less than 650 ℃. 304 stainless steel with excellent corrosion resistance and good resistance to intergranular corrosion。 Obtained in experiments on oxidizing acid:The concentration of ≤65% below the boiling temperature of nitric acid, 304 stainless steel has strong corrosion resistance. And most of the alkali solution and organic acids and inorganic acids also have good corrosion resistance
Thread
Item. No.
Cable
Range
Thread
O. D.
Thread
Length
Spanner
Size
Std. Pkg
Ф(mm)
C1(mm)
C2(mm)
A&F(mm)
(pcs)
M8 x 1.25
SSCG-M8 -3.8
2-3.8
8
5.5
12/12
20
M10 x 1.5
SSCG-M10 -5.5
2-6.5
10
6.5
14/14
20
M12 x 1.5
SSCG-M12S-6.5
2-6.5
12
7
14/14
20
M12 x 1.5
SSCG-M12 -5.5
3-5.5
12
8
15/18
10
M12 x 1.5
SSCG-M12 -7.8
4.5-8
12
8
15/18
10
M16 x 1.5
SSCG-M16S-5.5
3-5.5
16
9
20/18
10
M16 x 1.5
SSCG-M16S-7.8
4.5-8
16
9
20/18
10
M16 x 1.5
SSCG-M16 -7
4-7
16
9
20/22
10
M16 x 1.5
SSCG-M16 -10
6-10
16
9
20/22
10
M20 x 1.5
SSCG-M20S-8.8
4-8.8
20
9.5
24/24
10
M20 x 1.5
SSCG-M20S-12.5
7-12.5
20
9.5
24/24
10
M20 x 1.5
SSCG-M20 -11
7-11
20
9.5
24/25
10
M20 x 1.5
SSCG-M20 -14
9-14
20
9.5
24/25
10
M25 x 1.5
SSCG-M25S-11
7-11
25
12
30/25
10
M25 x 1.5
SSCG-M25S-14
9-14
25
12
30/25
10
M25 x 1.5
SSCG-M25 -16
12-16
25
12
30/30
10
M25 x 1.5
SSCG-M25 -18
14-18
25
12
30/30
10
M32 x 1.5
SSCG-M32 -22
16-22
32
12
38/40
10
M32 x 1.5
SSCG-M32 -25
18-25
32
12
38/40
10
M40 x 1.5
SSCG-M40 -26
21-26
40
15
46/50
10
M40 x 1.5
SSCG-M40 -31
24-31
40
15
46/50
10
M50 x 1.5
SSCG-M50 -33
25-33
50
15
59/59
10
M50 x 1.5
SSCG-M50 -41
31-41
50
15
59/59
10
M63 x 1.5
SSCG-M63 -45
39-45
63
15
69/69
5
PG7
SSCG-PG7S-6.5
2-6.5
12.5
7
14/14
20
PG7
SSCG-PG7 -5.5
3-5.5
12.5
8
18/18
10
PG7
SSCG-PG7 -7.8
4.5-8
12.5
8
18/18
10
PG9
SSCG-PG9 -5.5
3-5.5
15.2
8
18/18
10
PG9
SSCG-PG9 -7.8
4.5-8
15.2
8
18/18
10
PG11
SSCG-PG11-7
4-7
18.6
9
22/22
10
PG11
SSCG-PG11-10
6-10
18.6
9
22/22
10
PG13.5
SSCG-PG13.5-8.8
4-8.8
20.4
9.5
24/24
10
PG13.5
SSCG-PG13.5-12.5
7-12.5
20.4
9.5
24/24
10
PG16
SSCG-PG16-11
7-11
22.5
9.5
25/25
10
PG16
SSCG-PG16-14
9-14
22.5
9.5
25/25
10
PG21
SSCG-PG21-16
12-16
28.3
12
30/30
10
PG21
SSCG-PG21-18
14-18
28.3
12
30/30
10
PG29
SSCG-PG29-22
16-22
37
12
40/40
10
PG29
SSCG-PG29-25
18-25
37
12
40/40
10
PG36
SSCG-PG36-26
21-26
47
15
50/50
10
PG36
SSCG-PG36-31
24-31
47
15
50/50
10
PG42
SSCG-PG42-33
25-33
54
15
59/59
10
PG42
SSCG-PG42-41
31-41
54
15
59/59
10
PG48
SSCG-PG48-45
35-45
59.3
15
69/69
5